Welcome to the homepage of GLENROYAL german shepherd dogs
Owners Laurie,Ann and Sarah Cook.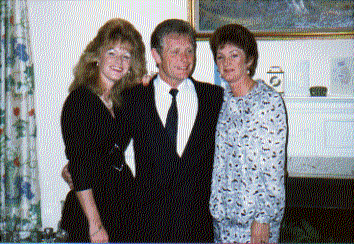 We bought our first German Shepherd (unknown parentage) while Sarah was still a toddler, in fact both her and the pup used to share the pushchair to the amusement of the public at large. Our first interest in the dog world was obedience, and we soon became part of a demonstration team performing at local galas and fetes, it was actually Ann who was keen to start showing at breed shows, so I surprised her with our second GSD, a puppy from the long gone Blueberry Hill Kennel. The puppy was virtually all German breeding and out of one of the first German imports of Percy Elliot. However, at the time this fact meant nothing to me.
Though I encouraged Ann, I had no interest in the beauty show side of dogs, my love was still obedience until a fateful day when we were entered at a local canine show and Ann could not make it, so could I take her - I did and three first prize cards later I was hooked and the rest is history.
Since those days we have bred on average one litter per year with considerable success. I have handled at shows in England and Germany. Handling, however, is now Sarah's domain, handling for us and many of our friends. We successfully run breed training at least two nights a week. I have judged at Championship show level since 1992 and will become international in 2001. However having said all this our main criterion is and always will be our love and the welfare of this beloved breed.
Laurie Cook.
Sunnydene, Gainsborough Road, Scotton Common, Nr. Gainsborough
Lincolnshire, England DN21 3UB
Contacts: phone 01724 762523 fax 01724 764645 mobile 0589 953012


lauriepcook@btopenworld.com
Sign My Guestbook
View My Guestbook
This page was last updated on 7/11/2004
Copyright © 2001 by [Don Willis]. All rights reserved